| App Name | Vanced Manager |
| --- | --- |
| File Size | 4.26 MB |
| Version | 2.6.2 |
| Requires Android | 4.0 or higher |
| Price | Free |
| Developed By | Team Vanced |
---
If you're a fan of YouTube Vanced, then you're probably familiar with the hassle of finding and installing the app on your Android device. But what if we told you that there's an all-in-one solution that makes the process a breeze? Introducing Vanced Manager – the ultimate tool for YouTube Vanced users.
What is Vanced Manager?
Vanced Manager is a free and open-source app that simplifies the installation process for YouTube Vanced. With just a few taps, you can install YouTube Vanced, YouTube Vanced Music, Vanced MicroG, and even Magisk (if you're rooted). This eliminates the need to search for the right versions of the app and the additional files needed for it to work properly.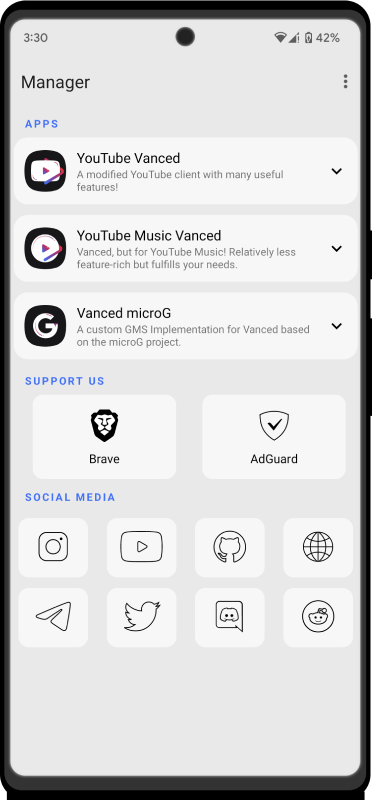 Features of Vanced Manager
Apart from making it easy to install YouTube Vanced, Vanced Manager comes with a host of other features that make it a must-have for YouTube Vanced users. Some of the key features include:
User-Friendly Interface: Vanced Manager has a clean and easy-to-use interface that makes it simple for anyone to install and manage YouTube Vanced.
Automatic Updates: With Vanced Manager, you don't have to worry about manually updating YouTube Vanced, YouTube Vanced Music, and Vanced MicroG. The app checks for updates regularly and notifies you when a new version is available.
Easy to Uninstall: If you ever need to uninstall YouTube Vanced or the Vanced MicroG, you can do so easily through Vanced Manager. This ensures that there are no leftover files that can cause issues on your device.
Multiple Versions: Vanced Manager allows you to install different versions of YouTube Vanced, including the stable version, the beta version, and the non-root version. This gives you the freedom to choose the version that works best for you.
Magisk Integration: If you're rooted, Vanced Manager can install YouTube Vanced through Magisk. This ensures that the app is installed as a system app, which makes it more stable and less prone to crashes.
How to Download and Install Vanced Manager on Android?
Installing Vanced Manager on your Android phone is a simple process. Here's a step-by-step guide to help you get started:
First, download the Vanced Manager APK file from our website. Make sure to download the latest version of the app.
Once the APK file is downloaded, go to your phone's Settings and navigate to Security.
Under Security, enable "Unknown Sources". This will allow you to install apps from sources other than the Google Play Store.
Now, go to the folder where the Vanced Manager APK file is downloaded and tap on it to start the installation process.
Follow the on-screen instructions to install the app on your phone.
Once the app is installed, open Vanced Manager and tap on "Install" to install YouTube Vanced.
Select the version of YouTube Vanced that you want to install and tap on "Install" again.
Wait for the installation to complete. Once done, you can open YouTube Vanced and start using it.
That's it! You've successfully installed Vanced Manager and YouTube Vanced on your Android phone. Enjoy ad-free YouTube videos and a host of other features that come with YouTube Vanced.
FAQs
Is Vanced Manager safe to use?
Yes, Vanced Manager is safe to use. The app is open-source and is regularly updated to ensure that it is free of bugs and security vulnerabilities.
Do I need root access to use Vanced Manager?
No, you do not need root access to use Vanced Manager. However, if you are rooted, you can use Vanced Manager to install YouTube Vanced through Magisk.
Can I install Vanced Manager on iOS?
No, Vanced Manager is only available for Android devices. iOS users can use other YouTube ad-blocking apps, but they are not affiliated with Vanced Manager.
What is YouTube Vanced?
YouTube Vanced is a modified version of the official YouTube app that allows users to watch YouTube videos without ads, play videos in the background, and more.
Conclusion
Vanced Manager is a game-changer for YouTube Vanced users. With its user-friendly interface, automatic updates, and easy uninstallation process, it's the ultimate tool for anyone who wants to enjoy YouTube Vanced without the hassle of manual installation. So, if you're a fan of YouTube Vanced, be sure to give Vanced Manager a try – you won't regret it!
Summary
Author Rating





Software Name
Operating System
Software Category
Price
Landing Page